3 CMOS ENDOSCOPY CAMERA SYSTEM – DS-C380
The imaging device uses 2.2 million pixels, 1/3-inch Full HD CMOS sensor, which has the full HD unique ultra-precise image expressiveness, and achieves the performance of 1000 lines of horizontal resolution, 54dB of signal-to-noise ratio, and 2000lx/F10 of high sensitivity.
DIGITAL PROCESSING CIRCUIT
The image processing uses the newly developed high-performance digital processing circuit to achieve a low noise of 54dB signal-to-noise ratio.
MULTIPLE IMAGE OUTPUT
The image output is equipped with digital high-definition signals (HD-SDI), DVI digital signals (1920 × 1080), and NTSC signals (VBS, S-VIDEO). An additional DVI signal can be added according to the requirements of the selected accessories.
ELECTRONIC SHUTTER
As the brightness of the subject changes, the equipped electronic shutter function can keep the image brightness at the best state at any time.
STILL IMAGE SAVING • VIDEO NETWORK TRANSMISSION FUNCTION
SD card (optional) can save still images [Storage format: JPEG1920×1080]
In addition, H.264 format can realize video network transmission.
The transferred images can be viewed from a dedicated viewing software or IDE-200HD decoder. ENDOSCOPY CAMERA FEATURES
Optimally matched system consisting of telescopes, lenses, camera head, camera controller, light source, light cables and monitors
Ergonomic Handle
Future-proof investment, updates can be imported at any time via the USB port
USB port on camera controller for directly saving HD images and HD videos to USB storage media
Waterproof and Autoclavable Camera Head
Distortion-free objective lens
All available light sources and applied parts are compatible with the Controller and can continue to be used
User friendly and cost-effective
OPTICAL COUPLER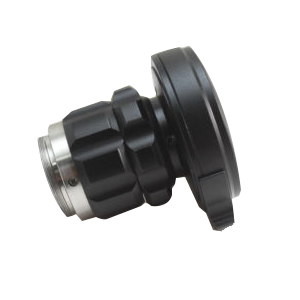 The optical zoom lens enlarges the image captured by the sensor by up-to 2 times - for a complete and true image.
Distortion-free display
Autoclavable
C-Mount connector and interchangeable Snap-On lock for endoscopes
Zoom lens